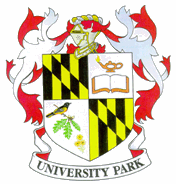 The town of University Park, MD is only one-half mile square, but its residents love its small town feeling and convenient location. As a graduate of the nearby University of Maryland, I like this town. I also like the development along Route 1. The Arts District of Hyattsville is minutes away.
Official description
Here's how the town describes itself on its website:
University Park is a small, tree-lined community of 915 single family homes and 2300 residents in northern Prince George's County, adjacent to the University of Maryland. Having its own municipal government, University Park provides a traditional "small town" atmosphere with urban convenience and amenities. The Town maintains its own park and recreational facilities.
Through local organizations, residents participate in many town-wide events, which build a strong sense of community.
The town is located adjacent to the southern edge of the University of Maryland, is about three miles south of the Capital Beltway, two miles from Washington, D.C., and less than a mile from two Metro stations.
Listed for the second time by Washingtonian Magazine as one of "The Best Places To Live in Prince George's County," the Town has traditionally attracted many professionals working for the University of Maryland, the public sector, and private business.
One of my favorite sales in University Park was a house in the College Heights Estates neighborhood. The Tudor-style house was known for its amazing garden with five working fountains and original gas lamp posts from Baltimore city. Inside, it had old train doors from the B&O railroad cars.
Map of sales in University Park
Below is a partial map of sales by Alice V. McKenna in and around University Park, MD. (If you do not see red pointers on the map below, hold down the control key and hit R (reload) and the pointers will show up.)

View Alice V. McKenna Real Estate: Sales History in a larger map