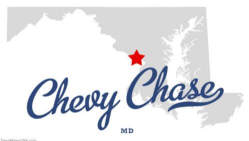 Small town near the big city
Chevy Chase feels like a village with its picket fences, wide sidewalks, big shade trees and lots of parks. It also has a farmers market and community supported agriculture.
But Chevy Chase is also within 10 minutes of Bethesda and Washington, DC. Nearby Friendship Heights offers shops and restaurants.
My main office is in nearby Bethesda.
Origins of the name "Chevy Chase"
The name Chevy Chase has been closely associated with real estate passions and plans for more than 600 years. According to Chevy Chase Historical Society, the name "Chevy Chase" has roots in medieval Scotland and England, when it described certain lands. A famous battle fought over some of those lands in 1388 resulted in a ballad called "Chevy Chase."
In the North American colonies, Lord Baltimore made a land grant to Colonel Joseph Belt that included a portion called Chevy Chace. Then it was part of a 1751 tract. Later, the Chevy Chase Land Company took the name "Chevy Chase" from a 200-plus acre tract of land that the Land Company purchased to include in its planned street car suburb.
Sales by Alice V. McKenna in Chevy Chase
Following is a partial map of sales by Alice V. McKenna in and around Chevy Chase, MD.
(If you do not see red pointers on the map below, hold down the control key and hit R (reload) and the pointers will show up.)

View Alice V. McKenna Real Estate: Sales History in a larger map