Revitalized in the last 10 years, Bethesda has become a popular destination to visit and a great place to live.
Easy access to Rock Creek Park and downtown DC makes this city popular with buyers. My main office is in Bethesda. I spend a lot of time in this little city.  New restaurants are always opening and new construction is a part of our landscape.
Thriving downtown
Bethesda has a thriving downtown. The outdoor cafes and trendy boutiques along Woodmont Avenue make Bethesda feel like an extension of Washington, DC. There are luxury highrises and estate homes, in addition to affordable condos and houses in established neighborhoods. The Kenwood neighborhood in Bethesda is the second-most popular place to see cherry blossoms outside of the Tidal Basin around the Jefferson Memorial.
Unique neighborhoods
Bethesda has several neighborhoods with their own unique character.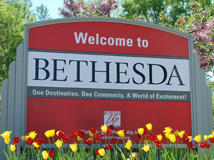 Specific sales by Alice V. McKenna in Bethesda
These are a few examples of my favorite houses I sold in Bethesda.

Finally, here's one from this spring:

Map of sales in Bethesda
Below is a partial map of sales by Alice V. McKenna in and around Bethesda, MD. (If you do not see many red pointers on the map below, hold down the control key and hit R (reload) and the pointers will show up.)

View Alice V. McKenna Real Estate: Sales History in a larger map