A Tudor Revival -New Home Upgrades and Old World Elegance

4119 Leland St Chevy Chase, MD 20815
The most stunning home in Chevy Chase, re-crafted by award winning boutique builders.
Special Space Design and Restoration, Inc.
Sold! Sold! Sold!

Read this ultra-cool blog post about the stellar renovation of 4119 Leland Street in Chevy Chase!
Make sure you do the 3D tour on-line! Just exquisite!

A Storybook Tudor, discreet from the street.
Chevy's Chase's most beloved neighborhood. A stunning Tudor retreat on a quiet tree lined street with sidewalks. Every detail has been meticulously planned. This home has been re-crafted by the award winning boutique builders that have won two prestigious Montgomery County Awards in building and historical preservation. This Tudor is a 1925 treasure with the original antique brass and iron light fixtures, stucco walls, rich dark hardwood floors-seamlessly blended with today's must have's.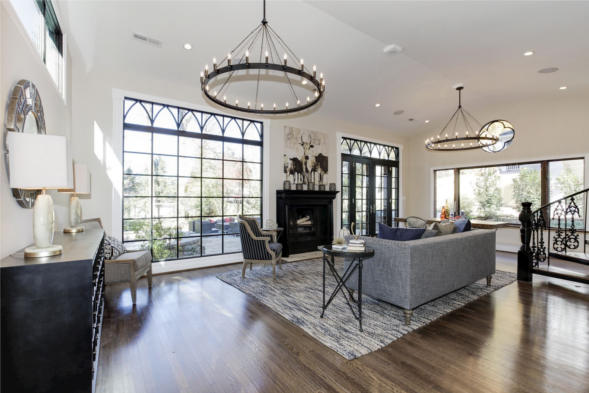 This elegant Tudor proudly displays the history of Leland Street as it was developed in the 1920's. The original solid front door and brass hammered mailbox are unique to 1925. Ultra-modern security cameras and automation are at your front door, discreet and hidden within those stucco walls.
A wide-entry foyer with a charming mullioned window and distinctive Gothic arches lead to a fairy-tale wonderland of modern and historical touches.
In-Situ deep rich stained floors match beautifully with the original window lush trim. This is not your cookie cutter box!
New home upgrades married to old World Elegance! New Windsor Windows live in the trim and workmanship of 1925.
The living room with original Antique Gothic brass and iron light fixtures have the subtle arch that inspires serenity and peace. The original fireplace with hand forged limestone is a work of art. Of course a gas line is at the ready if needed.
The stucco walls are washed with soft lights from the story book Tudor Wall fixtures. The custom arch entrance opens up to a grand family room, with incredible private vistas and the must have outdoor rooms-the patio stretches to infinity! The family room is 27 feet wide!
Custom windows and French doors echoing the Quatrefoil theme are throughout the house. This ancient design— seen in Gothic style churches and castles is found in secret corners all throughout this special home. This symbol is found in the cathedral of Notre Dame in Paris , the Doge's Palace in Venice and even in the National Cathedral in Washington, DC.
Quatrefoil designs require a high degree of mathematical skill and craftsmanship to execute. The window high in the family room echoes this symbol of peace and good luck. Look for it in the light fixtures and trim too!
Family Room and Kitchen
The family room stretches over 27 feet wide with custom windows and French doors with dreamy views outside access. Hand forged iron balusters connect this great room with eat- in space to the kitchen and stylish Butler's Pantry.
A 56 inch custom built range hood with a vent-A-Hood insert assures quiet and function. This work of art was crafted from reclaimed wood from this house renovation. This restaurant ranked hood uses 600 cfm's with make up air for ventilation. Viking appliances work together with a 44 inch AGA Legacy Stove. Dual fuel –a classic look with every modern feature! Even Ina Garten could cook for Jeffrey here!
A huge marble island is perfect for seating or watching TV (wired and ready behind the family room walls). The island is Rustic Alder and Glaze. The huge Butler's pantry has Brighton cabinetry in Tranquil Nautical-soft close doors of course. A cool chalkboard wall compliments the rolling library ladder to get to those top cabinets! After planning your meal, reach for a bottle of wine from the Thermador flat panel stainless built-in Wine Preservation Fridge. 56 bottles-incredible!
A custom coat closet framed by doors from a century year old estate in New York. Deep carvings-smooth closings. A must-have powder room with Groundworks Navajo Indigo wallpaper and period light fixture and tons more storage. Washer and dryer too! A skylight and mullioned window work together for light.
Up the Steps…
The original castle-like door from the kitchen remains, matching the rich staircase. So much square footage: Four bedrooms are upstairs, with three full baths of course!
The En-Suite Master is a Chevy dream! Skylight and moonlight are your companions in this retreat. Tree top and sky views are oh-so private. A set of custom glass French doors flank an original stained glass window. Private and lush all year round.
The master bath is stylish yet soothing. A cast iron tub to sit and relax in. Of course a walk-in shower for two if you must dash off. Hansgrohe body jets and a waterfall shower head are not too complicated to operate! The huge closet holds all your clothes and treasures.  A sleek pocket door hides a full length mirror.
Three more bedrooms with huge closets await. One has it's own sweet bath.  Two other bedrooms share a black and white hall bath with cement tile accents. A niche is built in for style and beauty.
Original one arm scones light the stucco hallway to a secret room.
Up the stairs is a cool space with windows and awesome storage and can be a 6th bedroom, den or office.
Down the Steps…
Another original wood door from the foyer leads to this completely remodeled space. The fifth bedroom has a full window and great closets.
A second washer/dryer hookup is thoughtful and usable. Another bath, just as stylish as the upper ones has everything for a guest or family member needs, with it's own entrance to the stunning patio.
The Garden Rooms…
Nothing compares in all of Chevy Chase or Bethesda. A huge flagstone patio larger than any restaurant around! Four separate spaces with dreamy views to a garden wonderland with an ornamental stone wall and fountain framed by lush grass and woodland views.
The family room doors open to this soothing retreat. An outdoor dining room, living room and yoga space has it all!
A private parking space was designed by an architect to blend in discreetly.
This incredible vista is lushly landscaped with specimen plantings from the 1920's. Nellie Steven Holly, Laurel Skip Cherry Trees, Dogwoods and Crepe Myrtles and Magnolias are your companions in privacy and serenity. There's room for everyone to run and play in the lush grass, even room for a private cocktail pool! This is the dream.
The Neighborhood
Located in Chevy Chase — the small town near the big city. It feels like a village with its picket fences, wide sidewalks, big shade trees and lots of parks. But Chevy Chase is also less than three minutes by car to  Bethesda and  so easy to commute to Washington, DC. Nearby Friendship Heights offers shops and restaurants. This beauty is .7 miles to the Red Line Metro.