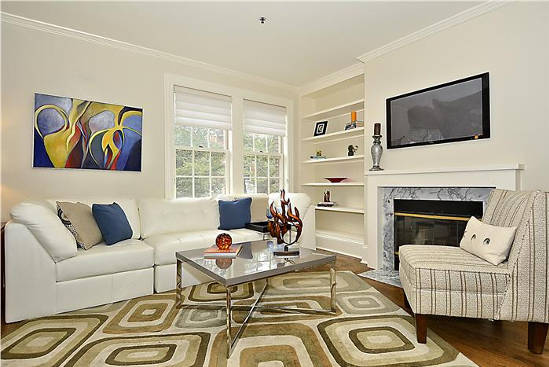 Sold!  Clunch and Quality
("Clunch" is from England — read more below.)
1736 18th St, NW, Apt 204, Washington, DC 20009
$639,000
Walk Score 98!
Two bedrooms and two baths in the split style, total privacy in this boutique 1925 treasure — your urban oasis.
This space is move-in ready and in superior condition. All the must-haves, in the most desired neighborhood of Dupont.
Inside
The best floor plans are both stylish and functional. Here is the best.
This boutique condo was built in 1925, but the rest of it has been rebuilt from the studs up. The plumbing, wiring and duct work is "modern" 1991!
What is "Clunch?" It is one of the unique colors crafted by Farrow & Ball of Dorset, England. They describe Clunch as similar to "the chalk stone building blocks used in East Anglia." "Clunch" is the perfect complement for the "Pointed" color trim in your space. This extraordinary brand of paint graces the walls of homes around the world. It will set the tone for any design — elegant British style library living or a modern and sleek look.
Open the door to a real foyer — space to pause. Plenty of wall space for your favorite art. The Italian tile floor sets the tone for elegance and sophistication.
The exquisite attention to detail, and there are so many superb details.  Stylish ones you can see right away.
Turn the corner, walk into the living room and stop in your tracks! An entire wall of custom built-ins flank a stunning wood-burning fireplace with a crisp mantel and marble surround. Attention HGTV fans!!! These  custom built-ins were hand crafted by a local carpenter featured on HGTV.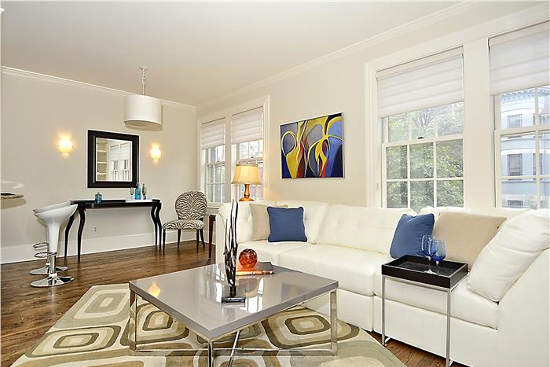 Linger in your stunning and incredibly functional living room. The burnished wood-top desk tops are built-in, perfect for your tablet browsing or for a buffet for a party. No limits here. High end windows let the light in. Hunter Douglas Architella Shades set the mood.  Open them from the top or the bottom.  DC's unique roof turret views or tree tops — your choice.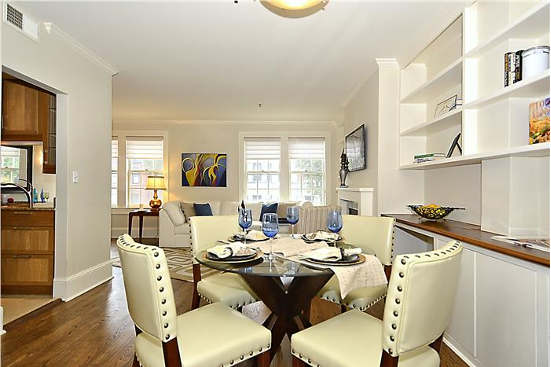 Hardwood floors stretch everywhere and feature a gorgeous special Satin Walnut period stain that matches the building character.
The living room flows seamlessly to the dining area. Wall sconces and a stylish chandelier from Room & Board will complement any style table.  A very clever and rounded breakfast bar opens up the kitchen to this sweet space.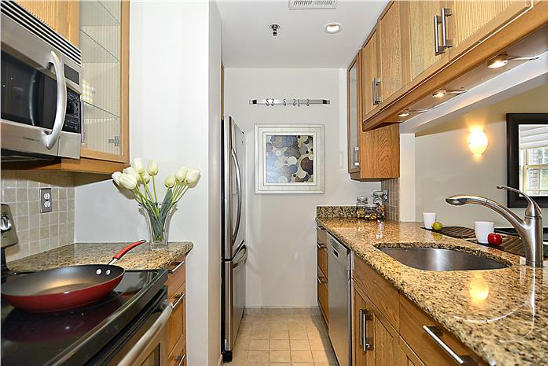 The kitchen is re-styled with this cool breakfast serving bar to hang out while you cook and entertain.  Walk across the Italian porcelain floor tile as you try to remember what recipe you saw on Chopped!  If you have HGTV bookcases, you need a super easy recipe from one of those cooking shows. A Stainless Steel GE Profile range and convention/microwave oven will make it a breeze.
The super-quiet Bosch dishwasher model was top rated by Consumer Reports. Wash the dishes ever so quietly.  The design factor continues here.  Glass front doors blend with solid walnut fronts. Each space has a purpose — these doors hold everything. The custom fridge blends in beautifully. The granite service bar is the perfect place to hang out.  Even a heavy duty disposal…why worry about these things?  You don't have to, someone else has already thought this through and installed the best.
Bedrooms
The lovely private space—The master bedroom has high ceilings and great windows. Two sets of closets line the wall, which conserves your personal wall space. It has a private, upscale bathroom featuring an Italian marble top and porcelain sink with a modern glass shower enclosure. All separate from the rest of your space. A true retreat.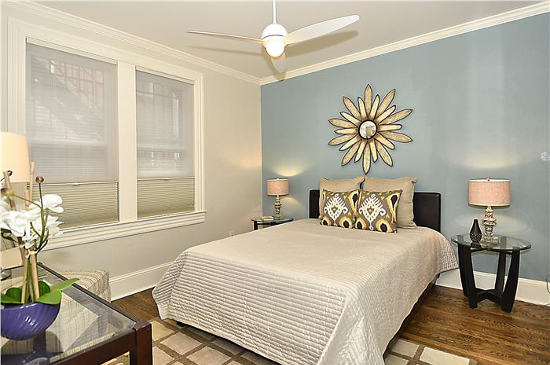 From the living room, enter elegant French doors into the first bedroom. Stone White colored walls are lux. Super quiet closet doors and a window over look a delicious secret.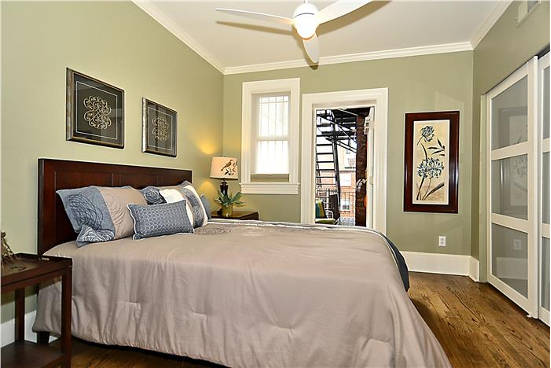 Cocktails, coffee and fresh air.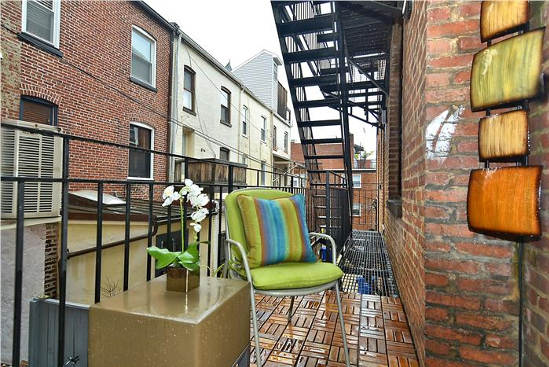 Here's it is: a glass door exits to the city-style deck.  Morning coffee has an outside home.
Exquisite details
The Nest thermostat knows when to turn the heat up, or cool it down.
Kohler Cast iron shower pan.
Kohler fixtures and toilets, Hansgrohe shower heads.
The back windows are double-paned and energy efficient and keep your space so, so quiet when closed.
Their reinforced glass is very secure. The counterweights and cords were all redone in 2012.
Interior door hardware is Emtek (better than Baldwin!).
Modern Fan Company ceiling fans. Super cool technology can dim the lights.
Dimmer switches.
Solid doors, not hollow core.
Floors finished in 2012.
Water heater installed in 2013.
Wired for cable.
Professional-grade Carrier HVAC unit.
All the tile has Durock beneath it. All installed behind the bathroom walls and main hallway to eliminate subfloor flex and prevent cracking.
High efficiency and extra quiet Panasonic exhaust fans in both bathooms.
Dryer has periscope vent installed for improved efficiency and safety.
Washer and dryer.
Low-VOC paints.
Fully functional alarm system.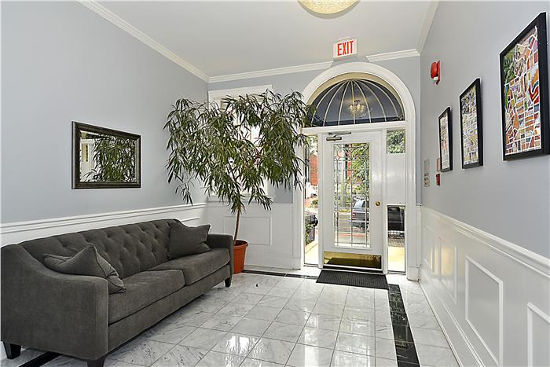 The Neighborhood
The Waterford has a private, secure lobby. Everything is within mere minutes of this fab space in the Dupont Circle neighborhood.
This stretch of 18th Street is a little bit of New York and a little bit of London. Small, colorful row houses line one side of the street, mirrored by early 20th Century buildings with style and charm. No ugly high rises to block your sun. Trees and charming lights are the norm. Wrought iron fences frame lovely small gardens.  Bird baths and stone benches are hidden pleasures to see.
This is the best central neighborhood in DC. It's a short walk to downtown for work, or stroll to the happening 14th Street corridor. Pop over to Georgetown by way of Rose Park. Walk to three different Metro stations. It's four blocks to Dupont Station on the Red Line;  seven blocks to U Street Station on the Green/Yellow Lines. If you don't want to walk, technology awaits…Car2Go and ZipCar are at your fingertips and moments away.  Uber and Cabs if you don't want to drive yourself!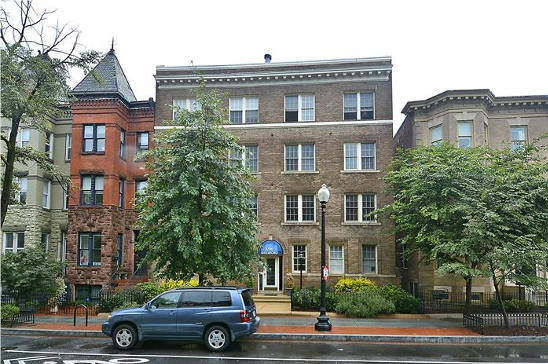 Dupont has everything.
Coffee: Filter is close by.  You must try a cup here.
Tea: Teaism
Sweets: Dulcezza — so yummy.
Organic: Glenn's Garden Market. A neighborhood favorite with local organic produce and what's better with a healthy meal?  They have lots of great microbrews.  Great sandwiches too.
Culture: Walk over to the Phillips Collection and walk by some of the most beautiful historic homes of DC.  Sit in their cafe and plan what exhibit to wander through.
Books: Kramerbooks and Afterwards. Pick up books for the HGTV hand crafted shelves.
Workout: VIDA, Mint, MySportsClubs, and even the YMCA. Vida and the YMCA both have pools.
After your workout: Every corner offers a culinary delight.
Nothing compares to this ultimate location.