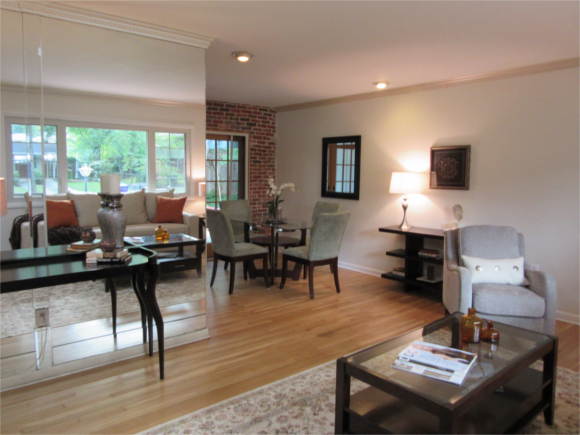 Sold! And above the list price!

13714 ASHBY ROAD, ROCKVILLE, MD 20853 — $429,000
A simple split-level facade leads to a visually stunning interior space full of modern surprises.  High ceilings, skylights and moonlights.
Incredible private oasis. Move-in ready. Space that defies description.
That all important line of sight, a visual feast for your eyes and your soul.
The recipe
1. Start with a quiet street.
2. Take a modern (1960s) split level.
3. Add a three-story addition.
4. Infuse with quality, updated features and contemporary California style.
5. Garnish with outdoor decks, terraces and gardens.
6. Blend in perfect balance.
7. Serve the good life, indoors or out!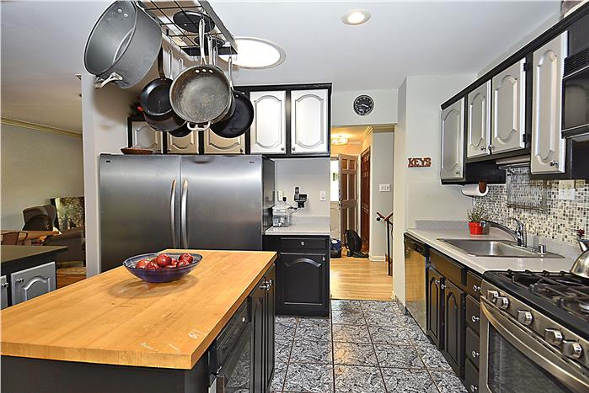 Inside
Four bedrooms and three full baths, all remodeled for today's lifestyle. Super stylish and updated contemporary split with private master suite with a wood burning fireplace.. A first floor family room with skylights and french door exit blend seamlessly.  The living room and dining room complete this super first floor.  Light is everywhere and so is privacy.
Open kitchen, with gas cooking if you must cook indoors. A huge, six-foot fridge to hold everything from that Costco run.
The vaulted main-level family room has skylights! So much thoughtful space.
You can see views of multiple decks and patios from this fantastic space.  The colorful stairs lead to the master bedroom retreat space.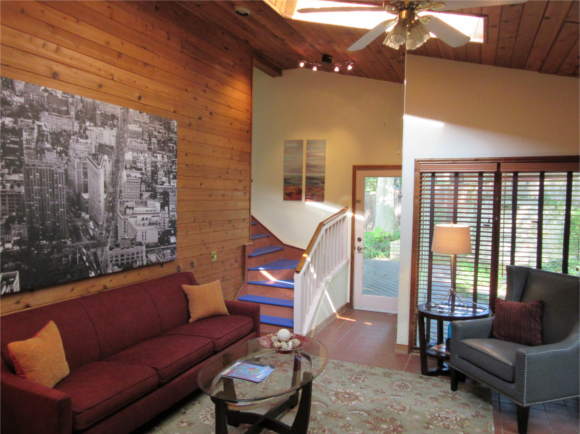 Moonlights, skylights, newer windows, and multiple sets of french doors — just so sweet.
More
Reclaimed wide-plank hardwood floors in the master bedroom, rich original floors in the must have places!
The master bedroom has heated floors and a wood-burning fireplace. Step out your private door onto your deck overlooking a fully landscaped retreat. Private space but connects to the rest of the house by a clever doorway.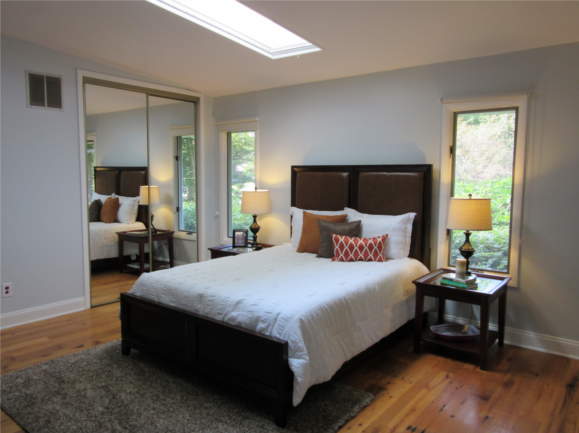 Three more bedrooms and an updated hall bath.  Two full baths up.
Downstairs, there is livable space and windows everywhere. Also, another finished room, the original "rec" room.  This leads to the lower level of the addition—A library or recreation room with cool loft-like bookcase with a ladder is just a visual treat. A room for extended family, so much potential. A set of french doors lead to the most incredible outside space!  A hand-crafted real working fireplace to sit in front of or even cook on!  No little fire-pit here!
Two exits also make this perfect for an "income property" or an in-law suite.  Real potential because the spaces are already built.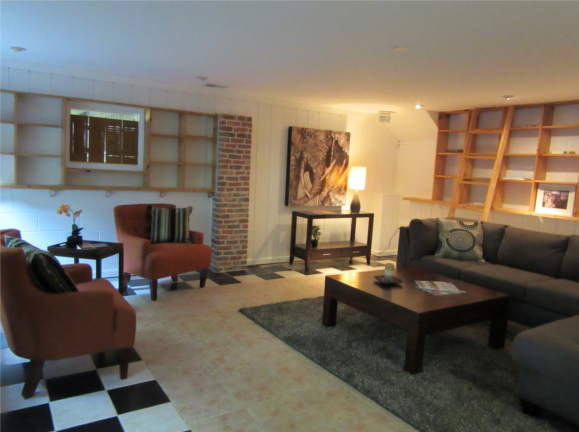 Outdoors
The three patios (two covered) are perfect for dining, relaxing, and living the good life.
The incredible terrace is an outdoor living room covered in wisteria vines. A huge stucco outdoor fireplace completes the scene. Memories are made here.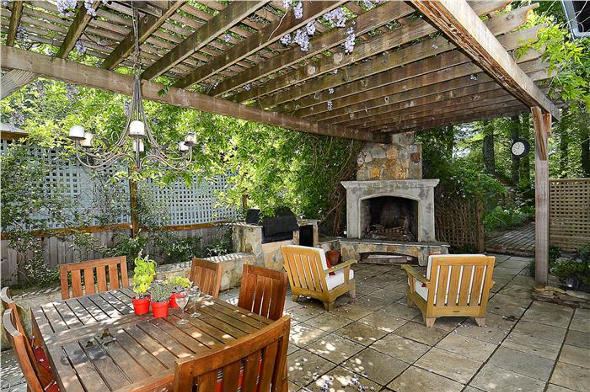 Light covered trellis deck with room for couches and tables.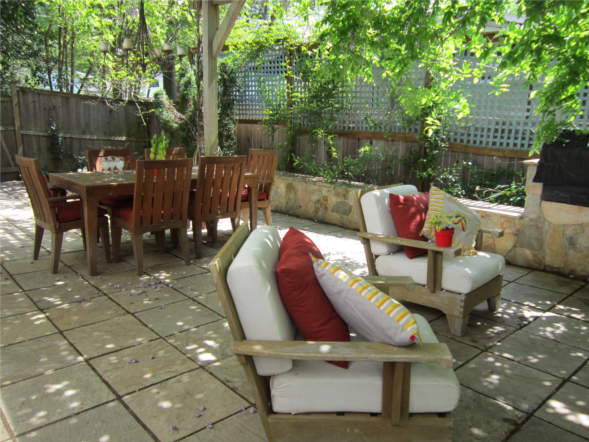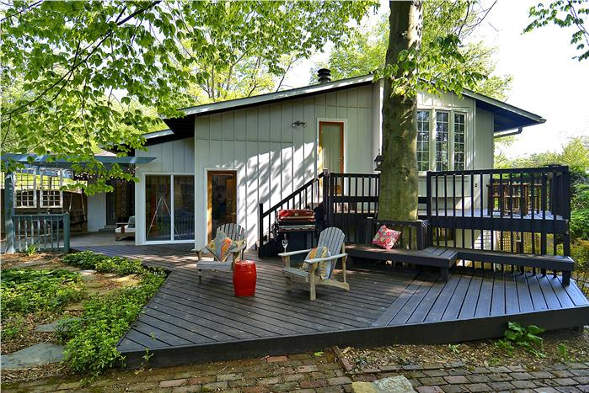 Decks, doors and dreams
A split level full of dramatic architectural spaces.  The back elevation compliments the outside spaces.  Form and function do work together here.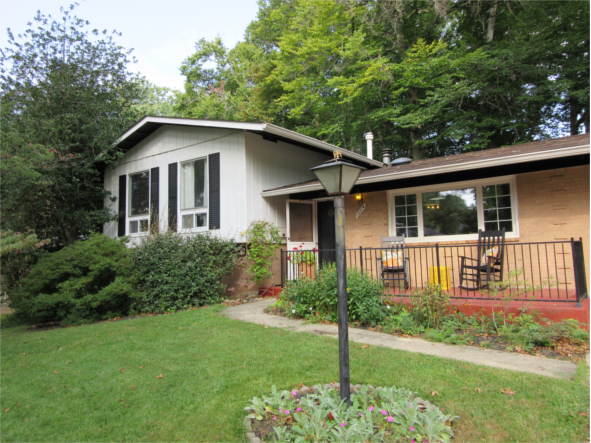 The Neighborhood
Located in Rockville, the house is close to the library, the neighborhood pool, commuter routes, magnet schools and two Metro stations.
Rockville is the new hometown. More people living in Rockville work in computers and math than in 95% of the places in the US. Scientists, astronomers and geographers call it home. It's a city of artists, too. More people who work in art, design and media live here then in 90% of communities in America.